ACORN National Convention 2022 – A snapshot! Take action to stop PSP (Pension Fund) from destroying affordable housing
Posted August 23, 2022
Posted on June 23rd, 2022
Cliquez ici pour le texte français
Wow! What an action packed, fun-filled National Convention that saw close to 200 ACORN members from coast to coast! ACORN held its 6th bi-annual national event from June 18th – 20th at Concordia University in Montreal. The theme "Making Housing our Right".
Take action here: "Tell PSP to stop investing in exploitative housing and predatory lenders"
This long-awaited convention was powerful for it was after three long pandemic years that members from across the country finally met in person. The buses started rolling in on the 18th which marked the beginning of a slew of events to unfold in the next 2 and a half days. Here's a quick snapshot of the events. 
Workshops
The Convention kicked off with a series of workshops conducted by ACORN leaders. The workshops ranged from powerful campaign planning to stop financialized housing and predatory lending to members learning from their peers new skills on how to run a workshop, how to speak to the media and social media skills to get the message out in the virtual world.
The Member Speakout 
A tradition of ACORN Conventions where members from each city/province talk about their struggles and victories. Starting off with BC and followed by London, Hamilton, Toronto, Peel, Ottawa and Gatineau, Montreal, New Brunswick and Halifax!. Each member speakout was a passionate and emotional account of issues that members have been fighting and victories that have been secured. With each member speakout, the cheers from the members only became louder!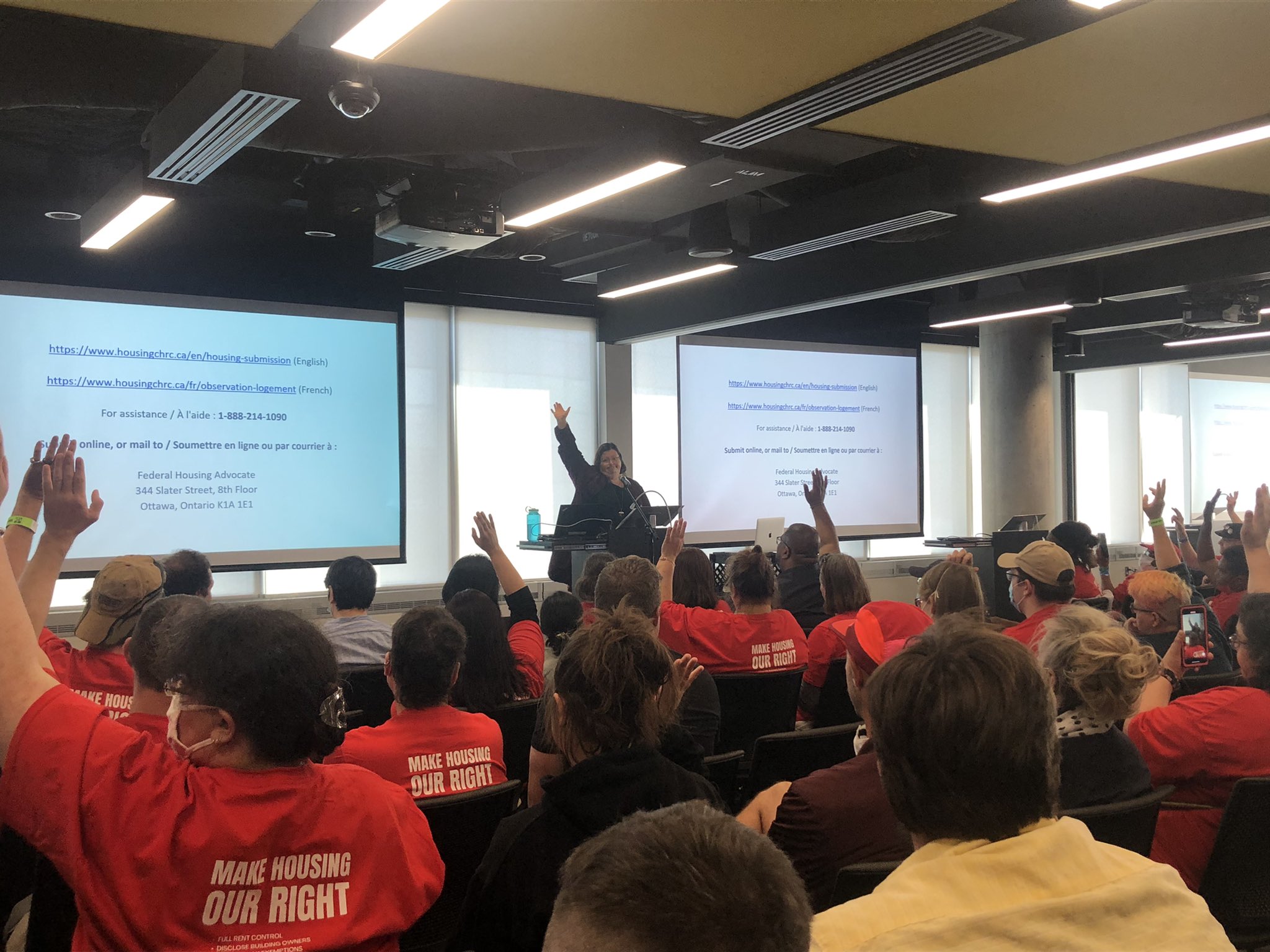 The Plenary
The second day started with members marching from the residence to where the plenary was held. Each city prepared their own chants and marched in the plenary room with great enthusiasm. Chaired by National leader Alejandra Ruiz-Vergas from Toronto, the plenary was a mix of great speakers including Senator Pierrette Ringuette, MP and NDP Housing Critic Jenny Kwan, Marie-Josée Houle, Federal Housing Advocate and labour allies including Larry Rousseau of the Canadian Labour Congress and Marc- Edouard Houle of the FTQ Metropolitan Montreal  Regional Council. Not to mention the passionate speech of John Cartwright, Chair of the Council of Canadians passionate the night before.
Door-knocking in Montreal 
After an outreach workshop, members then headed out to door knock in Montreal after an outreach workshop where leaders did role plays on how to engage new members with ACORN. 
Art & Activism workshop – Get set go for the Big Action!
Some members had great fun attending an awesome sign-making workshop. Members made tons of signs for the action for the next day!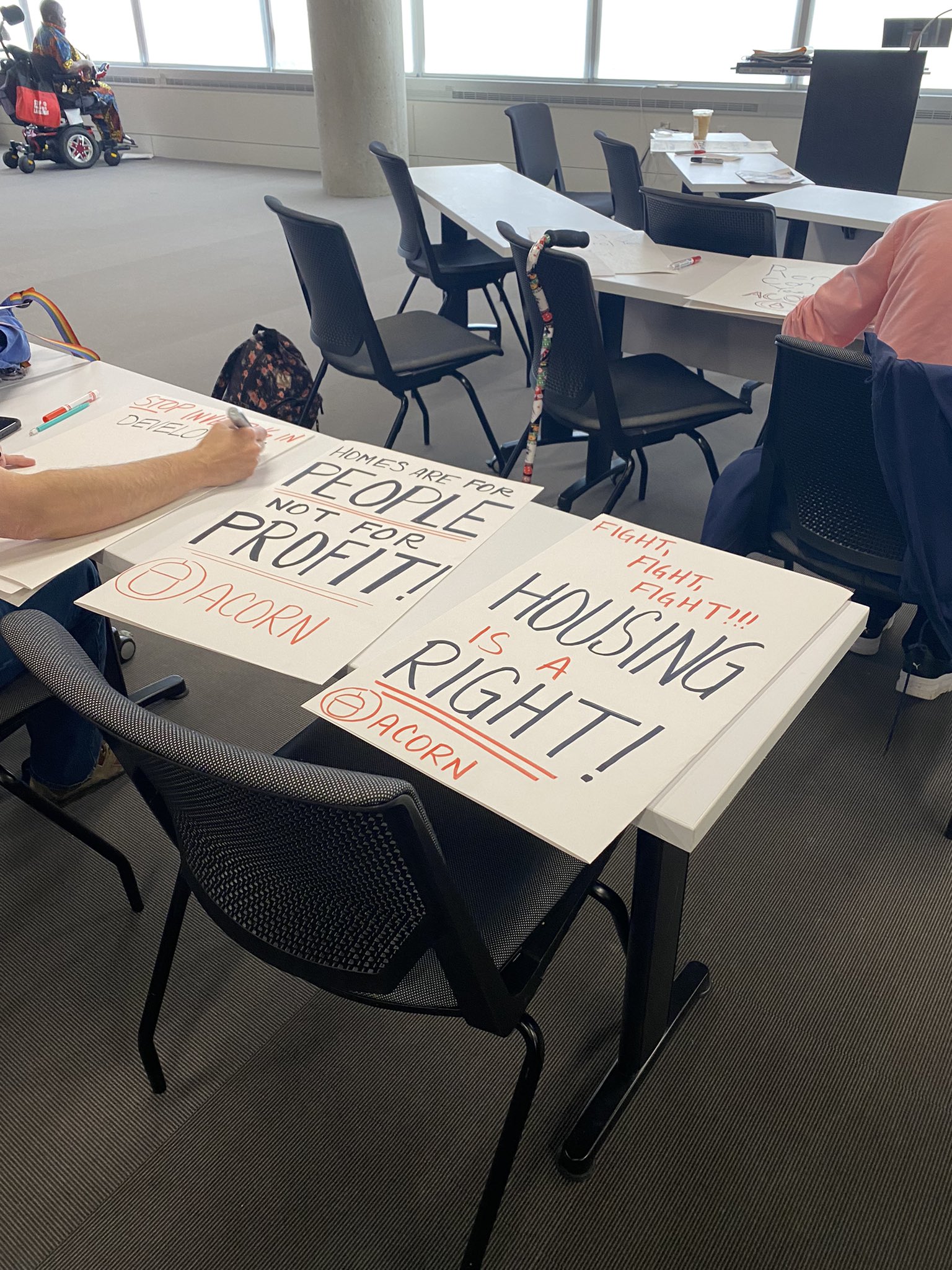 Gala dinner, the fashion show and more!
The second day didn't end until everyone got dressed for the gala dinner, an impromptu fashion show and a beautiful message from ACORN's International President Marva Burnett. Alejandra Ruiz-Vergas, leader from Toronto ACORN, kept the members going with her jokes and unwavering energy.
The dinner started with a speech from Marva Burnett who shared a glimpse of ACORN movement from across the world. The members also heard heart warming messages from our affiliates in the UK, Scotland, Peru, Cameroon, France and more. The dinner ended with an impromptu fashion show as members got onto the centre of the room, posing to bag a prize as the members did a final run to buy raffle tickets. 
And the ACTION!
Alas, comes the BIG DAY- that marked the end of the Convention but the beginning of a new struggle to hold one of Canada's biggest pension funds accountable! Members gathered in   the parking lot of Grey Nuns building of the University campus, holding signs – "PSP Divest from Displacement", "PSP stop Raising Rents", "Homes are not Assets" and more. Members took over Montreal downtown streets, marching to the PSP Headquarters where members did a sit-in until the President and CEO's office agreed to meet ACORN members.
Please support this action, click here.
Big Shoutout to all ACORN members who came to Montreal to reflect, celebrate and plan for what's ahead!
Merci – all our supporters and speakers and Concordia University for hosting this grand event.
Watch the member speakout here: https://fb.me/e/2ztb3YXZL
PRESS
The Hill Times: ACORN Canada protests Public Sector Pension Investment Board's stakes in 'exploitative financialized housing'
NB Media Co-op: 'Continue to fight': Moncton tenants report back from national conference
THANK YOU TO OUR GENEROUS SPONSORS – without you, this convention could not have been such an amazing success! 
Sign up for ACORN's newsletter