XFM: ACORN pickets Liberal MPs across Canada for affordable housing campaign
Posted May 4, 2021
Posted May 4, 2021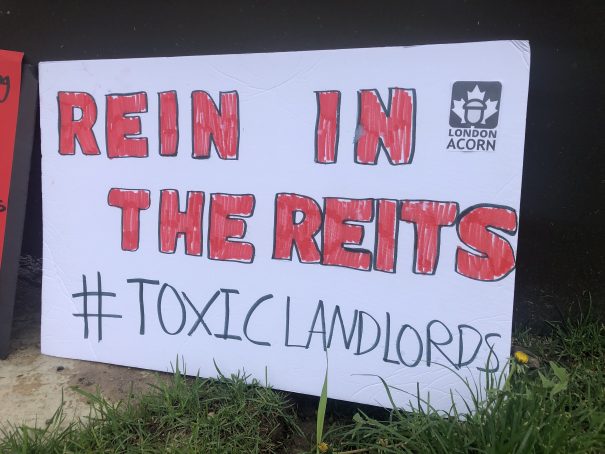 The Association of Community Organizations for Reform Now is picketing Liberal MPs across 30 federal ridings across 13 cities in Canada to demand a change in governing Real Estate Investment Trusts through the 'Rein in the REITs' campaign for affordable housing.
London has the second-highest rate of rental arrears behind Toronto as of 2020.
In the series of policy change demands, ACORN wants the federal government to take immediate action to end the tax exemption for REITs. This includes replacing the exemption with a system where taxes paid by REITs are directly related to the number of affordable housing REITs are providing or eliminating. Expanding on their demands for change also highlights that the Canada Mortgage and Housing Corporation must stop financing REITs. A National Non-Profit Acquisitions Strategy is also in need as it helps enable non-profit acquisition of modest rent properties, and to put a ban on REITs to own specific types of multi-family residential buildings.
The London ACORN picketing is to take place at Liberal MP Kate Young's office.
London ACORN member Sarah Henke, a PSW and front line worker was faced with the threat of eviction at the beginning of this year. "When the pandemic hit last year, my husband and I fell behind on rent. We continued to pay what we could, as we could. When one of us were able to get a job, money would go towards rent and to try to pay the back rent that we owed,"
With Starlight Investments, Henke felt the pressure coming back to her after voicing concerns for maintenance issues in the building.
"In January, I kind of knew that they were not liking the pressure that I was giving them regarding maintenance issues in the building. I knew they were trying to force me out using the rent arrears eviction because I was talking about their lack of maintenance repairs. Five days before the hearing, I received an email saying 'We've withdrawn the application to evict you'. And I was very confused to what had happened."
Henke shares when the REITs legal team was going through her files to give her for the court hearing, that is when it was brought to light she had been charged for an extra month's rent.
"These REITs have some very shady business practices where they can just magically tack on an extra month's rent without [tennants] being really aware because there's no way to get your account statement from them. It took trying to get my account statements over a month, that should be something you could pull up in two minutes."
With the Covid-19 pandemic affecting profitability towards many businesses, it has not slowed down Canada's largest REIT housing CAPREIT. In comparison to 2019, CAPREIT gained more money in the first six months of 2020 than the same period for the year prior.
CAPREIT is second to Homestead Land Holdings in filling the most number of Above Guideline Rent Increases for 2020 as corporate landlords take advantage of loopholes to extract more money from tenants.
The ACORN pickets are set to have over 130,000 members and supporters for its campaign across Canada. More information and updates about ACORN can be found at ACORN Canada.
***
Article by Jess Gould at
XFM
Sign up for ACORN's newsletter