CityNews: ACORN Ottawa protests at MPP Jeremy Roberts office against loopholes in Ontario rent control laws
Posted March 18, 2022
Posted March 18, 2022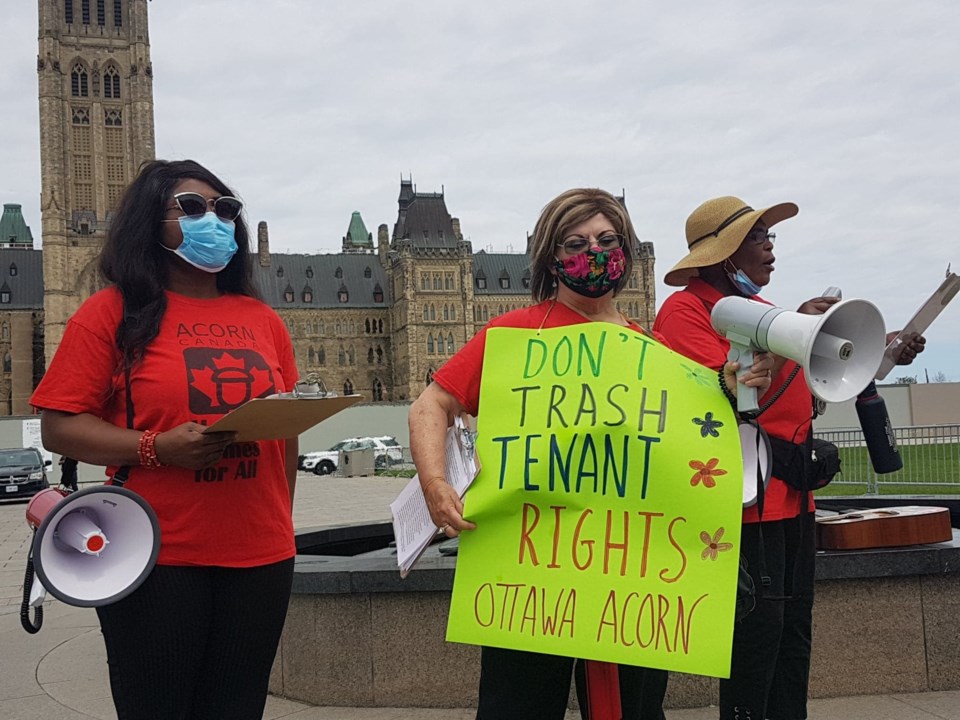 Listen here
Members of ACORN Ottawa will gather in front of local MPP, Jeremy Roberts office at 1580 Merivale Road today. The group is asking the PC-led provincial government to implement real rent control across the province ahead of the upcoming elections in June.
According to rentals.ca, the average rent for Canadian properties listed in February was $1,820 a month. That's an increase of 6.2% annually. In Ottawa, monthly rent for a one-bedroom was an average of $1,692 and a two-bedroom was averaged at $2, 033 per month – an increase of 9.9 per cent.
Board Member, ACORN Ottawa, Bader Abu Zhara tells the Rob Snow show today's action is important because rent is skyrocketing in many cities in the province because of the many loopholes in existing rent control measures.
"Doug Ford's government has worked to diminish the power of old rules, like stopping rent control for buildings built after November 2018 and restricting inclusionary zoning to transit zones only, because ACORN is asking for citywide inclusionary zoning. "
Zhara says renters keep getting hit with above guideline rent increases in Ontario, and landlords have taken advantage of it to avoid rent control measures. He says ACORN Ottawa is rallying for better protection for renters and their first stop is Ottawa West – Nepean MPP, Jeremy Roberts office.
"We choose to rally outside Jeremy Robert's office because he is a conservative MPP and the conservative blocked real rent control legislation introduced by the NDP last fall."
"They have also done things like change the application of inclusionary zoning, sped up the eviction process during COVID-19 with Bill 184, and are actually making it harder for tenants to get by. So ahead of the provincial election in June, we need the community to understand how this government has actually contributed to making the housing crisis worse rather than better."
ACORN Ottawa is calling for inclusionary zoning, which Zhara says they want to be implemented city-wide rather than just on transit zones.
"Inclusionary zoning means that we like to see the government putting a law where they say that every time a building going to be built at least between 25 per cent to 35 per cent of the apartments, should be dedicated for low-income housing."
With a housing emergency declared in Ottawa, the group is also calling for rent control and vacancy control.
"The city has been slow to take any action against stopping the loss of affordable housing even after they declared a housing emergency, we are still seeing mass evictions on a huge scale in neighborhoods like Heron Gate and Manor Park. This is why ACORN members want an anti-displacement policy."
"It would mean that in cases of the redevelopment of affordable housing, that affordable units were replaced in new developments at the same rent and offered back to their current tenants."
Last week, the City said it will stand by its local planning process after a report by the province's Housing Task Force made over 50 recommendations to increase the number of homes to make housing more affordable in the province. The province's Housing Task Force's said one of its main priorities is to tackle rising local house prices, however, the City said it would contest several of the recommendations as they take away some authority from Ottawa planners.
Today's action is one of many happening across the province in cities like Hamilton and Peel.
The protest is scheduled for 11 a.m.
***
Article by Damilola Onime for CityNews
Sign up for ACORN's newsletter