Posted July 23, 2020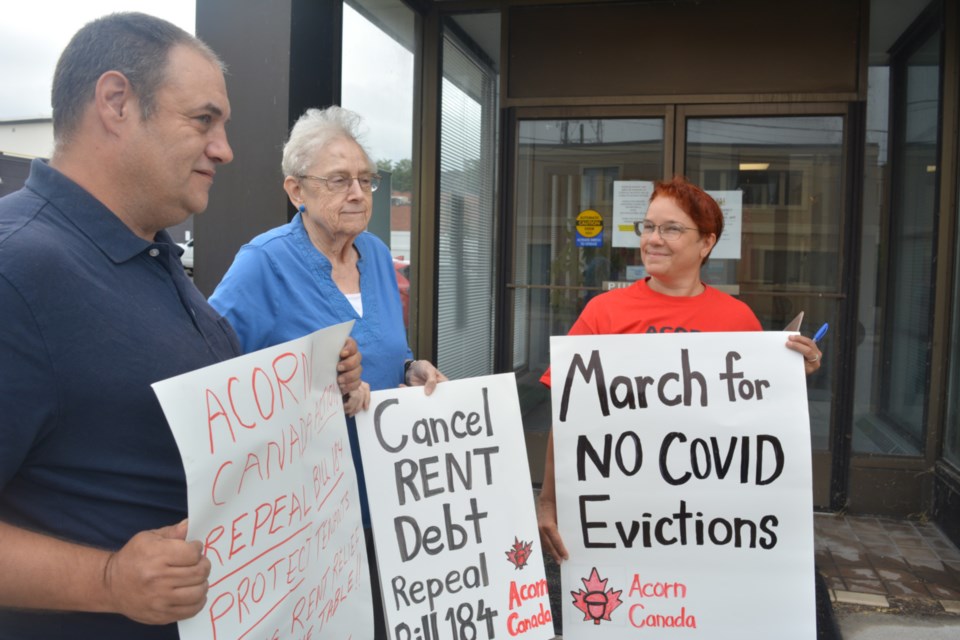 The Association of Community Organizations for Reform Now (ACORN) staged protests in five Ontario cities Wednesday, all of them calling on the provincial government to repeal Bill 184, which the advocacy group says will only speed up tenant evictions during the COVID-19 pandemic. 
Three local members of ACORN Canada were spotted by SooToday picketing outside the office of Sault Ste. Marie MPP Ross Romano, protesting the bill that was passed Tuesday. It received royal assent Wednesday. 
"ACORN members are demanding no COVID evictions, as Doug Ford just passed Bill 184 which speeds up evictions during a pandemic," said ACORN Canada member Josie Weir following the protest outside Romano's office. "Bill 184 is an attack on low and moderate income communities with devastating effects putting them at risk of homelessness and getting COVID-19." 
"We need to repeal this Bill 184. Doug Ford needs to keep his promise to not allow evictions during the whole COVID- 19 pandemic, and [he] needs to compensate the landlords as well."
Bill 184, also known as the Protecting Tenants and Strengthening Community Housing Act, would provide new avenues for landlords to both evict and collect unpaid rent from current and past tenants.
The changes are retroactive to when the province first declared a state of emergency over the COVID-19 pandemic.
Bill 184 will allow landlords to cut the Landlord and Tenant Board out of the equation and offer tenants their own repayment plan instead. 
An ACORN Canada survey of renters during the pandemic indicates that 15 per cent of tenants said that they either got the Notice of Termination of Tenancy or were threatened for eviction due to non-payment of rent.
ACORN Canada President Marva Burnett told SooToday Wednesday that his advocacy group for families with low and moderate incomes is demanding that Ontario Premier Doug Ford repeal Bill 184.
"He's introducing, sneaking in, legislation to evict tenants more faster. What is that?" said Burnett, speaking to SooToday from Toronto. "And with that, there's going to be a lot of homelessness."
The group is also demanding that Ford extend the moratorium on evictions, and create a rent forgiveness program to eliminate rent debt for tenants.  
***
Sign up for ACORN's newsletter