Posted February 10, 2014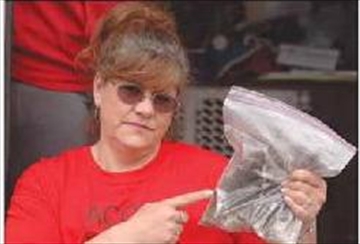 Donna Cyr said she wants the city to be able to enforce better standards for landlords.
The Nepean resident 
has been battling with her landlord since 2011 to get repairs done on her Majestic Drive townhome.
During a press conference with the Association for Community of Organizations for Reform 
Now (ACORN) on April 30 Cyr showed bags of mold she said she collected from the ceiling of her unit.
The conflict started almost right away, Cyr said.
She moved into the unit after an eviction in October 2011 and agreed to clean the unit in exchange for November's rent.
"After we finished taking out the more than 30 bags of garbage we stared to notice the problems," she said.
The problems included a leaky roof, which says is responsible for the mold she found in the ceiling above her back door.
A call to Aera Investments by the Nepean-News wasn't answered.
In August 2012 Cyr called the city's property standards department. She said they found 13 deficiencies, which were to be repaired by order of the Landlord and Tenant Board of Ontario's tribunal.
Bay Coun. Mark Taylor, who is chair of the city's community and 
protective services committee, said the city is bringing two cases to provincial offences court against the landlord in May for failure to complete flooring and bathroom repairs.
Taylor said there are a lot of good landlords in the city, but that the new policiy around derelict buildings should help to deal with the ones who don't keep their properties in good order.
"Realistically we are talking about something like three per cent of the city's landlords. But hopefully in September we will have a more robust plan for dealing with these issues," Taylor said.
In the meantime, the city has 
assigned two bylaw officers to complete inspections of the remaining units in mid-May, something that will be happening across the city over the next few months.
Cyr said she will continue to try and get her landlord to complete the repairs.
"I could just move, but then nothing will get done," she said. "There needs to be better protection for people who pay rent. I like to say I spend $1,224 a month for my landlord to kill me slowly."
Donna Mrvaljevic, a spokesperson for the Landlord and Tenant Board, said it's up to the individual municipalities to define their own minimum standards for repair.
The Ministry of Municipal 
Affairs and Housing's Investigation and Enforcement Unit investigates complaints of landlords not doing repairs ordered by the tribunal.
"Whatever the decision at the tribunal is, is enforceable like a court order," Mrvaljevic said.
Knoxdale-Merivale Coun. Keith Egli. whose ward the Cheryl Gardens units are in, said the city has very capable bylaw officers, ready to deal with tenants concerns.
"There is also court and Tribunal remedies available to assist in situation such as this," he said. our office will continue to work with the resident as a go between to bylaw and any other city services that might help."
***