Posted January 29, 2016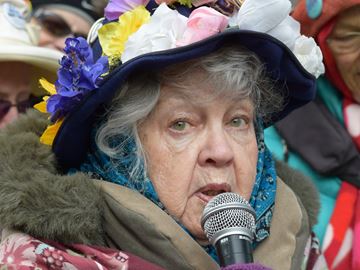 Nancy Parker had tears in her eyes when she addressed the crowd in front of the Ottawa Marriott hotel on Kent Street Jan. 22.
She told the story of her husband – who was diagnosed with emphysema in May – laying in a hallway in the Ottawa Hospital for two days before getting admitted to a room.
Her husband had a heart attack in November 2014 and had been admitted to hospital five times before being diagnosed with emphysema.
He waited until December to see a respirologist.
"This is a man who had trouble walking across the kitchen," Parker said. "That's ridiculous."
And the journey towards treatment and diagnosis still isn't done, Parker said, adding her husband is still going through breathing tests.
Mary Catherine McCarthy had a similar story.
Her mother was 90 when she fell and broke a hip in April 2015.
She was originally seen in the emergency room of the Civic campus of the Ottawa Hospital, but was moved to the General because of the wait times at the Civic.
She subsequently had hip surgery – but with her complex care needs after the recovery, and taking into account her Parkinson's Disease, dementia and celiac disease, doctors recommended she be moved to a long-term care facility.
"She had been living at home before the fall, but it wasn't possible for her to go back there," McCarthy said, adding the facility she was moved to was the family's second choice.
The waiting lists for long-term care facilities in Ottawa are long and families often have to settle for what's available, she said.
While the staff were dedicated, McCarthy said, they rarely saw the same person twice.
"Everyone was part-time, so it was hard to communicate her needs, because no one we talked to was familiar with her case," McCarthy said, adding when her mother arrived at the facility, staff didn't know her mother was recovering from hip surgery.
"They weren't really equipped for that kind of care," she said.
McCarthy said the family had to make sure someone was there during her mother's meal times to ensure she didn't eat gluten or anything that was cause a flare up from celiac disease.
Her mother died in June.
While she had lived a long life, McCarthy said she can't help but feel her last months could have been more comfortable.
With continued hospital staffing cuts, these stories aren't unique said, Marlene Rivier, a member of the hospital professionals division of the Ontario Public Employees Union.
It's gotten so bad at the Royal Ottawa Mental Health Centre, where she serves on the board, that Rivier said it's not a matter of if there will be cuts each year – it's where the cuts will be.
"Whether people are going out the door or not, services to patients will be cut," she said.
The crowd of protesters included representatives from 14 or 15 unions, as well as ACORN and the Ontario Federation of Labour.
The crowd yelled, "shame," "austerity, no way" and "fairness, it's the only way," as the slate of speakers talked about workers locked out of the Rideau Carleton Raceway and student debt.
Patti Coates, with the Ontario Federation of Labour, said if the province continues going down this path, the gap between the rich and poor will continue to grow.
"It's the vulnerable members of society that suffer," she said. "We need a higher minimum wage, and a plan for growing our economy."
Protestors have already been to Thunder Bay and Kenora, and will follow the budget consultations across the province, Coates said.
***