Posted August 5, 2016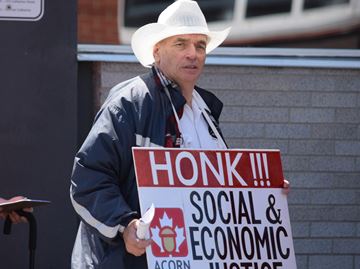 A small, but dedicated group of advocates made their voices heard outside of the Ontario Works office on Catherine Street on July 29.
The protest, orchestrated by Association of Community Associations for Reform Now, was an attempt to get the province to increase the employment income before the money is clawed back from Ontario Works and Ontario Disability Support Program clients.
Blaine Cameron, who is on a disability pension program, says his monthly income is $1,100 a month. His rent is $725.
"That's nearly 70 per cent of my income," he said, adding that any money he makes after the first $200 to top his monthly allowance will be clawed back by the province.
Advocates want the amount raised to $800 before the province starts to reduce the monthly benefit amount.
Cameron says the change will be an incentive for OW and ODSP clients to work, and be better for the economy, since they will be able to purchase things.
"The province says increasing the employment income before claw back would be a disincentive to work, but that just doesn't make sense," he said, adding if clients were able to find work to supplement their income, they may be able to get full time work and transition off assistance.
The group had three demands:
* The provincial government should increase the employment income before claw backs for both ODSP and OW recipients,
* Increase asset limit thresholds for recipients of both programs,
and the government should consider all registered retirement savings plans as exempt assets whether they are locked in or not.
"The assistance keeps people at poverty levels and has an impact on health," Cameron said.
Luckily Cameron receives help from family members, he said or he would be in a tough situation.
"I wouldn't be able to eat as healthy as I do now," he said, adding a lot of ODSP clients have degenerative diseases that aren't helped by the unhealthy diets they have because of a lack of money to spend on things like fresh produce.
There's another protest planned for Ottawa West MPP Bob Chiarelli's constituency office on Aug. 29.
In the meantime the anti-poverty advocacy is preparing a petition they plan to send to Premier Kathleen Wynne. They hope to get 5,000 signatures. 
***