Posted April 19, 2017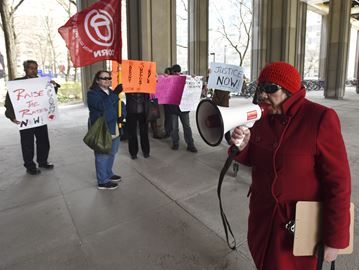 Some Toronto social activists see a basic income program, expected to be launched as a pilot in the provincial budget, as a simple, no-strings way to give the city's poor more freedom and financial support.
Others see it as a trick, dreamed up by a desperate Liberal government trying to look like it's taking action on poverty when it really isn't.
"For them, primarily, it's a means of stalling until after the next election," says John Clarke, an organizer of the Ontario Coalition Against Poverty,
On Thursday, April 13, the New Democratic Party's Leap faction staged a basic income debate at the Ontario Institute for Studies in Education, with people speaking for the idea and others, including Clarke, speaking against.
Hours earlier, members of Toronto ACORN (Association of Community Organizations for Reform Now), "tired of endless consultations" on social assistance, tried to bring an appeal directly to Ontario Community and Social Services Minister Helena Jaczek at the ministry's office on Grosvenor Street.
The group's message, repeated in recent months, is Ontario Disability Support Program and Ontario Works payments aren't enough to live on in Toronto, and must be raised immediately.
Laurie Simpson, ACORN's Weston chairperson, joined a small group of demonstrators which entered the building through a side door to bring this demand to Jaczek. It was surrounded by police.
On ODSP herself, Simpson believes spending years experimenting with basic income, a program which would replace ODSP and Ontario Works, would be wasted when "they know what they need to do, increase the rates."
Just raising the shelter allowance in ODSP to the present level of Toronto rents would bring up people's living standards on the program.  
Simpson's bachelor apartment, where she's lived for 12 years, costs $790 a month. The housing allowance for a single person on ODSP remained $479 for those 12 years, while the amount covering food and other necessities budged only slightly, she said.
"I personally use 75 per cent of my income to rent," said Simpson.
Also on April 13, Toronto City Council's Community Development and Recreation Committee approved a report supporting the launch and "rigorous evaluation" of an Ontario basic income pilot.
Part of the city's argument is with "precarious" employment growing in the Toronto area by 50 per cent in the last 20 years, current assistance programs are no longer working.
Joe Mihevc, a midtown councillor on the committee, said the basic income rate must be set not by politicians but an independent panel looking at objective benchmarks, such as inflation.
He agreed people should be cautious about the move toward basic income, and, for example, whether that income will be set too low.
"There is some truth that this can be seen as a ruse. People are worried about the motivation, what's really driving this," said Mihevc, who believes the province and the city know increases to Ontario Works rates are "absolutely" needed.  
But if the government's intent is to get people out of poverty, basic income should be looked at, said Mihevc, adding we should "hope for the best, even with government."
Jessica Sikora, president of Ontario Public Service Employees Union, Local 586, which represents ODSP caseworkers in Toronto, is also on the side skeptical of the Liberal government's intentions, calling the pilot "a Trojan horse."
Our current social assistance system is "clearly not" working in Ontario, said Sikora, but that's partly because we allow employers to pay people less than a living wage. Basic income "continues to prop that up," she said.
The government may seek to save administrative costs spent running ODSP by switching to basic income, but those costs amount to only a few per cent, Sikora said.
Clarke argued basic income fits well with neo-Liberal ideas coming from the U.S. supporting cuts to government and privatization of its services.
He predicted Ontario's new income program will be set low enough to provide "a de facto wage top-up" for the lowest-paying employers, taking pressure off efforts to raise the minimum wage.
"That's the writing on the wall."
But Josephine Grey, a resident of Toronto's St. Jamestown neighbourhood who's on ODSP, welcomed discussion of a basic income.
Whether the Ontario pilot is a delaying tactic or not, Grey said, she's encouraged "it's on the table" when, until recently, basic income seemed out of reach.
A founder of the group Low Income Families Together, Grey said she's not looking at the government as a monolith, and recognizes the government's poverty-reduction advisers include "solid people."
"We forget that it's our job, too, to influence government and join in the dialogue," she added.
Basic income "has to be understood as a human right," and it would give some farmers and low-wage workers more than they have now, said Grey, adding such a program offers more freedom than "the restrictive and punitive social assistance system we have now."
***