Posted February 26, 2014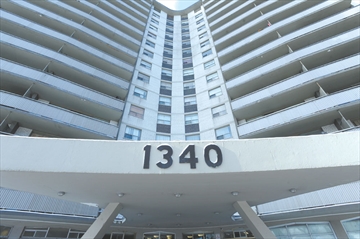 As a developer seeks approval to build a new condominium tower beside them, tenants of a Danforth Road highrise wait for their building's managers to deal with dozens of issues City of Toronto inspectors identified last fall.
Representatives of MetCap Living Management appeared last month at the Scarborough Property Standards Committee, asking the panel for more time to address 102 substandard conditions found in a November audit of 1340 Danforth Rd.
The 15-storey highrise is one of three north of Eglinton Avenue that MetCap has managed since 2005.
A builder called Options for Homes applied in 2012 to sever land at the rear of all three buildings for a new 18-storey condominium tower it calls Danforth Village Estates.
Options, still waiting for the project to return to Scarborough Community Council for approval, is advertising occupancies in the new 277-unit tower beginning in the fall of 2015.
The arrangement with Options is supposed to benefit tenants of the MetCap buildings, creating a new party room and gym as well as more landscaping, walkways and a new children's play area for both new and existing residents.
A total of 14 rental units would also be created on the ground floors of the MetCap buildings.
Natalie Hundt, a member of the activist group Toronto ACORN, who lived in 1340 Danforth until October, said tenants there hoped the city wouldn't permit the new development until conditions in all three existing 175-unit buildings were brought up to a higher standard.
That means "replacing the pipes that can no longer be repaired, renovating in a way that would not allow roaches to run from one (apartment) to the next and exterminating in the walls where they fester and hide," as well as repairs to electrical wires and building elevators, she said in messages this month.
It's nonsense for Metcap to claim they haven't had enough time to address issues in the highrises, since ACORN has been seeking improvements in the buildings since at least 2006, Hundt added.
"We have had countless community meetings and have met with Metcap management repeatedly after getting their attention by rallying in front of their office with signs."
When he appeared at the committee Jan. 27, however, John Tsangaris, MetCap's operations vice-president, said many of the issues flagged by inspectors at 1340 Danforth - 52 in the interior, 18 in the garage and parking area and 32 on the exterior - were "nuisance items."
'We're a very responsible company. We respond to residents in a timely fashion," Tsangaris told the panel.
Later, he added 1340 Danforth - the last of the three highrises to be audited by the city - would get new lighting, hallway carpets and other improvements, as was done in MetCap's other highrises.
The company has little to do with the proposal for a new building, though the parking garage at 1350 Danforth would be torn down to facilitate construction, Tsangaris said.
"We believe they are solid, good buildings with good people, good tenants. These buildings have been trouble-free for many years now," he added. "Any 40-year-old building, they are going to have their challenges."
The city had found the three elevators at 1340 Danforth "are not certified in good working order," and Kelvin Brown, a property standards officer who noted one was out of service during the November audit and another wasn't working when inspectors returned in January.
"It is not common, nor is it routine, for elevators to be down on a regular basis," Brown said.
Tsangaris responded he receives monthly reports on the elevators and, "I have not detected an issue with these elevators yet."
He added, however, that MetCap had just awarded a contract to install new panels, ceilings and lights in the 1340 Danforth elevators, and had plans "down the road" to renovate them, as was done to elevators in 1350 and 1360 Danforth.
The committee simply confirmed the inspection orders on some items but granted MetCap extensions to Sept. 2 to address 12 exterior concerns, to Aug. 31 on 12 items concerning the building interior and to Nov. 30 on 13 items involving parking areas.
All issues will have to be addressed to the city's satisfaction.
Members of the committee also confirmed orders on most of the seven outstanding items involving 1360 Danforth - four for the exterior, three for parking - but granted MetCap extensions to May 31 on two.
In an interview, Irene Darrell, a tenant at 1350 Danforth and a member of ACORN, said the renovations MetCap had done in her building were only cosmetic, and haven't dealt with larger plumbing, electrical or pest control issues.
"They've painted my door another colour and changed the carpet in the hall," she said this month.
"Why should they make money (on a deal with Options) "when they don't maintain the buildings they have?"
Glenn De Baeremaeker, the local councillor, said the city has done what it can for tenants, and is there to help if they want to report other property standard issues in the highrises.
"Nobody should be living in a substandard building," he said, adding city needs help from residents to identify problems inside their units, such as mould or leaky faucets. "We don't have X-ray vision."
De Baeremaeker said he was disappointed with the long list of issues found at 1340 Danforth and will meet with city staff to see that repairs are done.
***