Posted September 22, 2014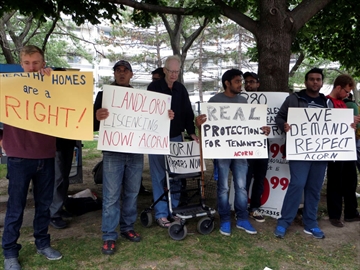 Gathering under the umbrella of the Association of Community Organizations for Reform Now (ACORN), a small group of protesters held a rally in St. James Town to decry what they say are deplorable conditions in their apartment buildings.
Tenant complaints included a lack of working elevators, water being shut off for days at a time, roaches and rodents, and more.
Speaking at the rally outside an apartment building at 280 Wellesley St. E., resident Lisa Kiltz aired out a laundry list of issues she has faced in her building nearby.
"I've had no water for five days," she said. "There are usually two elevators working at any given time out of four, and I live on the 24th floor, so it's not easy to walk up and down."
She added her kitchen floor is missing tiles, water outages are common and work orders she placed more than a year ago have not been taken care of.
The tenants said the lack of working elevators can lead to extremely long waits, particularly during morning and evening rush hours, when demand is highest.
Residents also complained of a recent problem with garbage collection in which they were told the garbage room was full and they would have to store waste on their own balconies.
Following the rally, they went to demand some action from building owners G&S Property Management, and were met in the rental office by property owner Doug Sartell.
Sartell said he would look into resident complaints about work orders being not dealt with for long periods of time, adding "that's not typical." He pointed out as a matter of policy, work orders are usually taken care of within 24 hours and higher priority is given to those which affect tenants' quality of life, such as a lack of running water.
He acknowledged problems with elevators can happen in apartment buildings, but said those in buildings owned by G&S are either being replaced or have been replaced within the past two-and-a-half years.
The problem isn't they break down, he said, but they are insufficient even when they are all working.
"These buildings shouldn't have been built the way they were," he said. "You have 570 suites and four elevators – that wasn't enough from the first day they were built."
A quick tour of 260 Wellesley St. E. showed three of the building's four elevators were operational.
Sartell acknowledged there was an issue with the garbage room, but chalked it up to the building's haulers breaking down and said the issue was resolved in short order.
He said the ACORN rally was simply a bid by the organization to get attention.
"They're a one-trick pony," he said. "They know how to bash landlords."
***