Posted March 3, 2015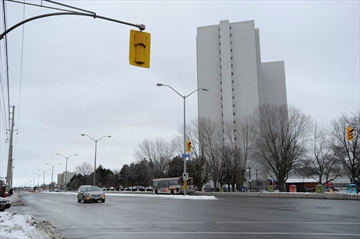 People in the Kingston-Galloway-Orton Park area can ask this week about a provincial bill that could guarantee more affordable housing units are built in Toronto.
A public forum on Bill 39 is organized by Seneca College students on Thursday, March 5, at St. Stephens Church, on Lawrence Avenue west of Orton Park Road, will look at Bill 39.
It starts at 7 p.m.
Anti-poverty activists support Bill 39, a private bill by Etobicoke-Lakeshore MPP Peter Milczyn, because it would let cities create something called "inclusionary zoning," forcing developers to include affordable units in every residential development.
Milczyn, a former Toronto councillor, is a member of the Liberal government.
Housing advocacy group ACORN Canada has warned people need to support the bill now, or it could die in a committee of the Ontario legislature.
During Toronto's municipal election campaign last year, mayoralty candidate Olivia Chow was publicly in favour of inclusionary zoning, but John Tory, who won, was not.
Bill 39, the Planning Statute Law Amendment Act, would also do other things, including set new limits on the powers of the Ontario Municipal Board.
***