Posted March 14, 2017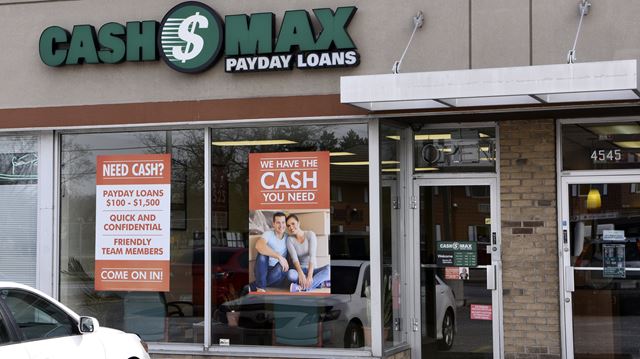 Toronto councillors want the province to help the city restrict cash shops they see as predators in their neighbourhoods.
But payday lenders warn proposed new rules and caps on charges will cause them to shut storefronts down, driving Torontonians desperate for cash to online lenders operating outside the law.
"People who need it will go somewhere else," Tony Irwin, president of the Canadian Consumer Finance Association, which includes Money Mart and other payday lenders, predicted last week.
If the brightly-coloured storefronts do close, their owners won't get sympathy from Maria Augimeri, a North York councillor who has seen cash shops open in her ward as smaller bank branches shut down.
She dismissed the argument that payday lenders offer necessary services for people who need cash. "It's a lure. You don't make ends meet through these payday loans. You get further into debt," said Augimeri.
"Small, struggling communities don't make for a successful bank, but they do make for a successful usuary shop."
Paul Ainslie says people in his East Scarborough ward have gotten second payday loans to pay for the first, since interest and overdraft fees can add up to more than the loan itself.
"They don't understand what they're being hit with," added Ainslie, who'd like to see cash shops in his area shut down.
With Bill 59, the Putting Consumers First Act, Ontario's Liberal government is proposing extended repayment periods, more time between loans, more rules covering "unfair debt collection practices," and minimum distances between cash shops.
On Jan. 1, the province reduced the maximum $21 payday lenders charged for a short-term $100-loan to $18. A $15-limit is proposed for next January.
Irwin said Alberta imposed a $15 limit last August, and "virtually extinguished" the payday industry there, though he acknowledged "not a lot" of Alberta cash stores have closed yet.
If rates go to $15 per $100, the Independent PayDay Loan Association of Canada told the province, independent cash stores "will have to shut down entirely, or they will have to resort to lending a far higher per cent of net pay than the 50 per cent currently being offered by them."
The group also argues unregulated online lenders - many operating from offshore and using search advertising to find customers in the U.S. - could scoop their business if it gets harder for Ontario consumers to reach regulated lenders.
Many, however, think Bill 59 won't go far enough.
Jagmeet Singh, deputy leader and Consumer Affairs critic for Ontario's New Democrats, says the legislation doesn't cap annual interest rates for payday loans or allow borrowers to pay them back using instalments, instead of the entire principal and interest at the same time.
That practice, Singh said, "puts people already in difficult financial positions in a worse financial position."
By allowing cash shops to get around rules keeping a lender from charging more than 60 per cent interest a year, Augimeri charges, the province is condoning "highway robbery."
Should the storefront lenders vanish, however, opponents don't believe the need for quick cash will disappear.
Toronto ACORN, a group representing lower-income residents, told the province more than half its members need to use "high interest" lenders "because mainstream financial services have failed them."
The federal government should force banks "to create an alternative to payday and instalment loans at low interest and with extended repayment terms," ACORN said.
Singh said the province itself could help provide affordable credit or "micro financing," and raising its minimum wage would help relieve financial pressures for many.
Frances Nunziata, a Toronto councillor who contends payday lenders in her Weston neighbourhood target "the most vulnerable" and are "almost like loan sharks" in interest charged, represented the city at Bill 59 hearings last month. Toronto asked for an interest cap, and supported "microcredits" or other alternatives that can fill "the current credit gap."
People on social assistance have a hard time not living beyond their means. For some, going to cash shops "becomes a bi-weekly or monthly act," said Ansley Dawson, financial empowerment superintendent with WoodGreen Community Services in East Toronto.
Collection agencies "can be aggressive in appropriate ways" trying to recover such loans, creating "a lot of stress and mental duress for our clients," Dawson said.
WoodGreen, through a free financial empowerment program (call 416-645-6000, ext. 1330 or write to
fe@woodgreen.org
), helps people find out what their rights are, and to take steps on a long journey toward financial stability.
Dawson said the agency works with clients of all ages and ability so they can meet basic needs.
In 2012, the city introduced reloadable social services benefits cards which, for residents on social assistance, are meant to eliminate need for cheque-cashing services, a profitable sideline of the cash shops.
On Jan. 31, Toronto Council approved a motion from Ainslie calling for public consultations on payday loans "to propose further changes if needed."
***