Posted March 29, 2017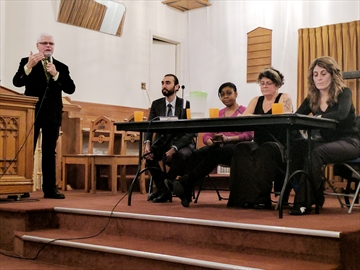 Concerns faced by renters in East York are nothing new: lack of maintenance, pests, fear of being evicted, noise, smoke entering their units from other tenants, heating/cooling and ventilation problems, rising rent, and reduced amenities.
Earlier this week, tenants lined up at a microphone at Bethel Baptist Church in Pape Village to share their ongoing struggles.
Those who filled the church's pews also came out to learn more about their rights as well as a new private member's bill Toronto-Danforth MPP Peter Tabuns recently tabled that calls for the elimination of Ontario's two-tiered rent system.
Currently, landlords of dwellings built after November 1991 can arbitrarily raise the rent, while those who own older buildings must adhere to rent-increase guidelines.  
"I know tenants are not protected. It's not a fair system," said Tabuns, who organized the meeting.
"This isn't only about rent control after 1991. It's a much bigger issue than that. Tenants are getting gouged."
He said the best way for renters to ensure their rights are upheld is by mobilizing.
Mary Lewyckyj, president of the Park Vista Tenants Association, agreed. She said it's time to "raise a little hell."
She said tenants need to make better use of the "tools in the tool kit," like Tenant Support Grants to help cover the costs of disputing a landlord's Above Guideline Increase application.  
"It's always going to be a David-and-Goliath situation. (Landlords) count on ignorance. They count on apathy," she said.
"You need to understand the system. You can't let them win. There are wonderful allies out there."
Five-year Broadview-Mortimer resident Don Collymore, a member of the 12 Bater Tenants Association, said east Toronto renters should take a cue from their west-end counterparts.
"Parkdale didn't do it by sitting down. They did it by getting up and getting active. These are our homes and we're fed up," he said, adding that Toronto needs to find creative ways to house people affordably.
Kemba Robinson, of the Association of Community Organizations for Reform Now  (ACORN) Toronto, also urged tenants to assemble to defend their interests.
"It's your life. It's your home. It's your neighbourhood. You need to take the initiative and organize," said Robinson, who asked those in attendance to support ACORN's efforts to get 50,000 signatures on a petition calling on the provincial government to address the city's affordable housing crisis.
"Tenants' voices need to be seriously heard in Toronto, and that's what we're doing here at ACORN."  
Euridice Baumgarten of the Federation of Metro Tenants Association said renters should never forget they have rights.
"Get together with your neighbours (so the Landlord and Tenant Board) understands you have power," she advised.
During the meeting, Ward 29 Coun. Mary Fragedakis said there are a number of ways the city is working to help people of all incomes live in Toronto.
The Toronto-Danforth councillor said she's had many discussions about how the city can encourage developers to build more rental housing units, notably inclusionary zoning. This policy would give municipalities the right to require new developments to have an affordable housing component.
Fragedakis also pointed to a possible tax break as another way to encourage developers to make affordable housing part of their projects.
Tabuns' private member's bill, The Rent Protection for All Tenants Act, is the first in a series of steps he said he intends to take to protect the rights of renters in Ontario.
The MPP said he'll also take a closer look at ways to stop landlords from "outpricing" tenants, essentially forcing them to move out so they can raise the rent.
***