Posted March 2, 2016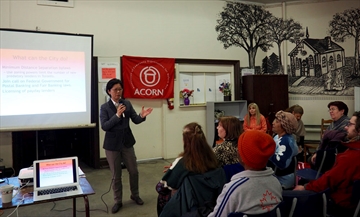 York South-Weston Councillor Frances Nunziata admitted she has been a victim of a predatory pay day lending company when her house was burglarized a few years ago.
The alleged thief made off with all of her jewelry and a police officer told her if she went to the local pay day lender she would likely find her stolen pieces there, she said. That's because these establishments also serve as pawn shops, Nunziata pointed out.
"It's always been a concern with residents the number of pay day loan centres opening up in the area," she told The Guardian. "They target the most vulnerable. Every block has about two to three of them."
The Ward 11 councillor, who has been working on combating the issue for several years, was one of a number of special guests at an ACORN (Association of Community Organizations for Reform Now) Canada-hosted fair banking forum in Weston on Saturday afternoon. As many as 80 people attended the event at the Weston King Neighbourhood Centre, on Weston Road at King Street, as did York South-Weston MP Ahmed Hussen and MPP Laura Albanese.
ACORN's campaign is calling on the government to limit the number of predatory lenders – companies that lend its customers small amounts of money at high interest rates with the agreement that the loan will be repaid when the borrower receives his or her next pay cheque. These such businesses include, cash-for-gold and rent-to-own furniture stores, among others, pointed out ACORN leader Donna Borden.
"These companies are very aggressive," she said.
ACORN has been working alongside Nunziata and her colleague, Toronto Centre-Rosedale Councillor Kristen Wong-Tam, on a motion that is expected to go to Toronto City Council this month that would create a bylaw to prohibit pay day lending companies from opening up so close to each other.
"Right now in one block, you can have two to three," Nunziata said. "They are not regulated or licensed."
The councillor is encouraging her constituents to attend the council meeting to make deputations, she said.
"I'd rather not have any (pay day lenders) in the stretch along Weston and Mount Dennis," Nunziata admitted.
Both Hussen and Albanese said they would do everything they can to help according to the councillor.
"Whatever the city does, we need support from the federal and provincial governments," Nunziata said, adding she is working to ensure pay day lenders are licensed. "This is an issue in Weston-Mount Dennis. I'm really pleased ACORN has taken the lead on this."
Borden herself said ACORN is "very, very excited" about the possibility of a 'minimum distance separation bylaw.'
"It would limit these organizations from opening up in close proximity," she said. "People have gone bankrupt because they've taken out up to 10 pay day loans."
The Toronto chapter of ACORN was established in 2004 when a group of tenants in Weston-Mount Dennis took their landlord to task winning $250,000 in rent abatements.
***