Posted December 5, 2014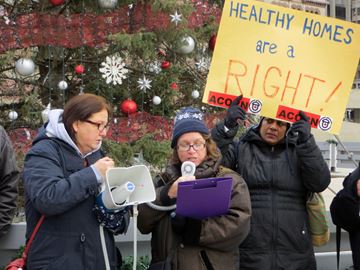 The note on the foil-wrapped package said, "Happy Holidays, John Tory," but the givers of the gift weren't happy.
They were Toronto tenants trying to hand the city's new mayor a boxful of complaints in person.
Housing advocacy group ACORN says its volunteers visited 105 apartment buildings tenants in eight city wards this summer, months before Tory was elected.
The group recorded 2,800 complaints – about such things as dirty hallway carpets, bedbug infestations and broken elevators – from 2,300 people it met in those buildings.
Now, they wanted Tory to do something about them.
"Since this is the season for giving, we have a gift for you," Kelly Lalande, co-chairperson of ACORN's East Toronto Chapter, said through a microphone during a demonstration Thursday, Dec. 4, in Nathan Phillips Square.
"We feel that we deserve healthy homes too."
Donna Borden,  who lives in a Toronto Community Housing building in Riverdale, called on Tory "to come out of his nice, heated office" at city hall and meet the ACORN protestors.
The mayor didn't come out, but Mark Sraga, investigations director for the city's Municipal Licensing and Standards Division, did.
ACORN (Association of Community Organizations for Reform Now) accuses the city of taking no action on tenant issues during the last four years, but Sraga said municipal inspectors are working hard to enforce property standards, and four more officers will be added in 2015.
Call 311 to register a complaint about your building, Sraga told the tenants, promising the city will investigate each one, and if the landlord doesn't address it, "we will definitely step in."
Organizers said some people at the protest were from 500 Dawes Rd., a notorious East York highrise. ACORN called attention to conditions there on many occasions.
Sraga said the city used "extreme pressures" to get compliance from its landlord, who recently replaced the boiler and defective heating elements as well as having the building cleaned, painted and re-carpeted.
But while the city has "absolutely difficult problems" with certain landlords, some complaints brought by ACORN are related to the conduct of tenants in those buildings, or are about things MLS doesn't regulate, he said.
"Graffiti is not put on a building by a landlord."
If the city finds a legitimate complaint, MLS issues an order, and gives the landlord time to comply. Many, however, appeal for more time to make repairs and get it.
"Landlords have some challenges, too," Sraga said.
Later, an ACORN member named Edward Lantz was allowed to bring the box into Tory's office.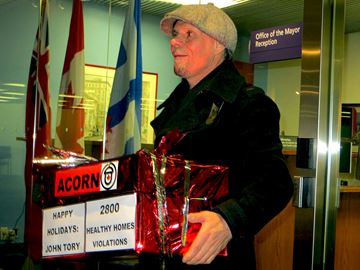 "I am hoping that he will be different," Marva Burnett, a longtime supporter of the organization, said of Tory.
The new mayor ought to meet soon with tenant organizations, ACORN included, which have good ideas for the city and province to implement, she said.
One is a licensing system for Toronto's landlords, which Burnett has said for years will make it easier for the city to get required repairs done quickly.
"Why should we be running around all the time, trying to get our landlords to do what they should be doing?" she asked.
***