Posted February 12, 2014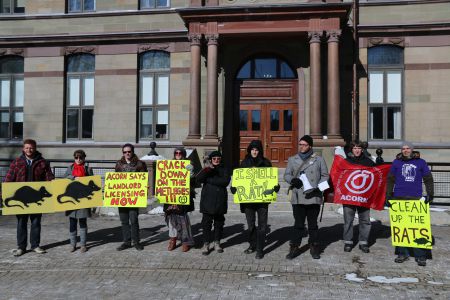 K'JIPUKTUK (HALIFAX) - The thought of sharing a living space with vermin such as rats provided a disturbing motif to a February 12th rally outside city hall in Halifax, Nova Scotia. And while the plight of the students and young professionals forced to leave their derelict building on Duncan St. in Halifax's West End has recently received mainstream media attention, due to their willingness to fight back publicly against their large-scale landlord, the situation, according to organizers, is embedded structurally in the imbalance of power between renters and landlords in the Halifax Regional Municipality.
"The real issue here is the HRM needs landlord licencing," says Evan Coole, organizer with the Halifax-Dartmouth chapter of ACORN, a tenants rights advocacy group. "We have a minimum standards by-law, the M-100. It spells out all a landlord's supposed to do [and] it's really reasonable stuff."
But a by-law is only as powerful as its ability to be enforced, something that Coole isn't seeing happening on the peninsula.
"It's called the minimum standards by-law [and the] inspectors do the minimum job," says Coole. "They'll take a look around. They'll maybe 'ding' the landlord. But it's not as effective a tool for tenants as it should be."
Like many cities with sizeable student populations, Halifax sees a significant transient renter population. Coupled with a scenario where large-scale landlords own significant swaths of rental turf, and low-income renters such as students are either pushed to enclaves, or forced to live in substandard conditions.
"We are seen as no more than four years of easy profit, only temporary bodies that are too apathetic to fight for what is owed," says Jesse Laufer, Vice President External of the King's Student Union. "When did being a student come with rats? When did studying to get jobs to advance this economy, to pay for our landlords' retirement through taxes, mean that we get rewarded with dangerous mold? Why does this city and this province let this happen? Why can't they give the 99% a healthy standard of living?"
Mayor Savage did appear at the rally, albeit momentarily. Although non-comital to the notion of landlord licencing, Savage did note that he was prepared to review the rental bylaws as they now stand.
"I think we should be involved in housing issues, writ large," said Mayor Savage. "We have bylaws and those bylaws should be reviewed on a regular basis. We have some very good landlords in this city and like any other city we have landlords that don't treat people the way they should."
Councilor Waye Mason, of district 7 Peninsula South Downtown, has been the champion at HRM council towards pushing forward residential licencing. Mason's proposal focuses on smaller scale apartment buildings, especially of the converted-home style prevalent in his riding. While not-necessarily as wide-sweeping as ACORN organizers might hope, Mason's proposal would put the onus on landlord's to comply – and pay – for their own inspections.
"Increasingly we're having housing that has been converted form being homes to apartments or older apartments that haven't been adequately inspected for a really long time," said Mason. "I don't buy the statement that in order to have affordable housing we have to have unsafe housing. I think we should have safe housing for everyone."
To Coole, the issue remains that within the current system, the plight of the renters of 6204 Duncan St. risks being repeated again on the next renters of the decrepit home. Landlord licencing and heavy fines for infractions, could change all that.
"With a system of landlord licencing, it's proactive," says Coole. "It's not based on complaints. Right now [the residents of 6204 Duncan St.] are smart enough to know how to use the legal system to protect their rights. Not every tenant is in that boat. Also, when they're gone, the complaint and the inspection file for this house will be closed. Another tenant can come in. All the same issues will be here. The landlord will not be forced to fix anything. And that's just plain wrong."
***